2008 Animation Film Festival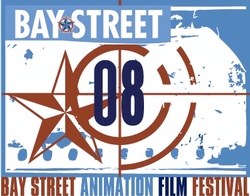 2nd Annual
Bay Street
Animation Film Festival
October 25th, 2008
At the AMC Theatres
*seating is limited

Schedule of Events
9:30am-Program begins
11:30am-Light reception to follow outside


View 2007 Animation Film Festival Results


Submissions due October 6th, 2008
Download a submission form here
Bay Street Animation Film Festival 2008 FAQs

Can I submit a film? Does it cost anything?
No Entry Fee! Participation is free and encouraged for all Middle School and High School students in the Greater Bay Area. Students participating must be enrolled for the
2008-2009 school year. Students are allowed to submit more than 1 film for consideration.
Students who have graduated from high school but who would still like to participate are encouraged to submit their films. These films will be shown during the awards ceremony but unfortunately will not be eligible for consideration under any of the categories or for any prizes.

Can we use profanity?
Profanity, obscenity and nudity are not permitted in the creation of your films. Submitted films must adhere to an MPAA rating of PG-13 or lower.

Should I be worried about copyright infringement?
Since your films are original pieces and are being submitted to a film contest for private review and distribution, copyright infringement is not an issue. However, the reliance on
images that you have not created will detract from the uniqueness of your story and we encourage you to use them sparingly.

I have an old piece of artwork, can I use that?
Absolutely! However, if you have been working on your film for over 12 months, we ask that you revisit the project with a teacher so that you both can do a fresh edit of your
work.

Are there guidelines for the content of my film?
There are no guidelines for content and we encourage you to be as creative as possible. The only guidelines are the two separate categories that the film will be judged according
to the length of the film. The two categories are Under 2 Minutes and Over Two Minutes in total length.

What programs can I use to create my film? What file type do I need to submit?
We prefer that all files are submitted as High Resolution QuickTime movie data files and optimized for the highest resolution possible to facilitate judging efficiency and crisp playback on the movie theater screen. Data files submitted as .mov file types at the highest resolution with no compression are strongly preferred over DVD movies optimized for playback in standard DVD players.

How do I submit my film?
All submissions should be burned to DVD and either submitted directly to the Bay Street Emeryville Management Office between the hours of 8am – 5pm, Monday-Friday or
mailed to:
Bay Street Management Office
Attn: Bay Street Animation Film Festival
5616 Bay Street
Emeryville, CA 94608
What if I cannot finish my film by the October 6th, 2008 deadline?
While we need as much time as possible to prepare entries for our judging, there are a few days of leeway. Contact Cutler for final cutoff information and shipping instructions the week before the entries are due if for any reason you do not think you will meet the October 6th deadline. Please contact Tim Murphy at Cutler Enterprises at 310-821-
5037.

What prizes can I win? What prizes can my school win?
Grand Prize winner - $15,000 Scholarship to Ex'Pression College for Digital Art or $5,000 scholarship to Digital Arts School of your choice.
1st Place - Over 2 minutes - $500 Scholarship
1st Place - Under 2 minutes - $500 Scholarship
All three winning schools will receive $1,000 towards their school/art program.
Who is judging my film?
Members of Pixar, Industrial Light and Magic and Ex'pression College for Digital Arts and members of the local film community will judge the animation artwork. Students have an opportunity to showcase their artwork before major animation studios.

How will I know if I won?
All students submitting an entry and their schools will be contacted and invited to an awards ceremony held in an AMC theatre at Bay Street Emeryville on Saturday, October 25, 2008. Selected films will be shown and prizes will be awarded at that time.

What if I have more questions?
Please contact Tim Murphy with Cutler Enterprises at 310-821-5037 for more information. You can also email Tim tim@cutlerenterprises.com.